See what's making news at Allied!
View recent Allied news and events, including dates and locations for refractory industry trade shows, as well as archived company press releases and newsletters.
Additionally, we offer a helpful library of technical papers outlining how we successfully develop advanced refractory products in our Research and Technology Center.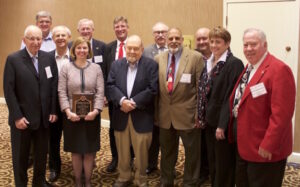 Dana Goski pictured with past award recipients
Allied's Dana Goski, VP of Research & Technology was named The American Ceramic Society 2019 recipient of the St. Louis Section Theodore Planje Award.
Congratulations, Dana on this recognition and your dedication to this industry […]
Allied Mineral Products has launched a new Chinese-language website. The website, alliedchina.com, targets the local business market in China while actively engaging existing customers.
In Northern China, Allied's manufacturing facility in Tianjin celebrated its 20th anniversary last year.
General Manager Ben Ge said, […]
MATRIKOTE 90 AC is a high alumina, fine grained refractory designed for thin coatings
                                                      […]
We are excited to announce we have begun manufacturing at our newest international facility in Yelabuga, Russia, located in the Republic of Tatarstan.
Russia is the fifth largest foundry market in castings produced and has the second largest primary aluminum […]
Learn more about Allied
We produce success with our customized refractory products, proactive problem-solving, technical support and global commitment. Learn more about Allied and everything we do to benefit our customers.