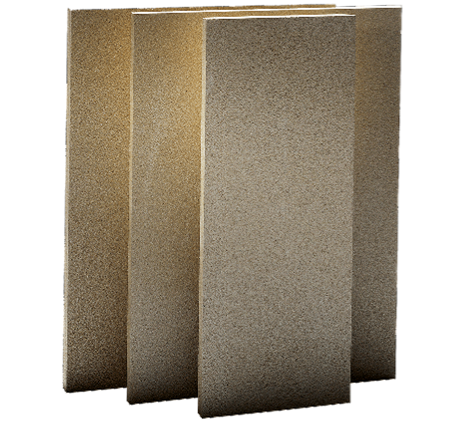 Allied supplies Skamol insulating boards in a variety of grades. These products have excellent insulating properties and offer a clean and easy installation.
Skamol S-1100E is a lightweight Calcium Silicate insulating board with excellent insulation value, high mechanical strength and good heat resistance. The boards are designed for maximum temperatures of 1100°C (2012°F) and are applicable as back up insulating lining.
Due to its high resistance to carbon monoxide and hydrocarbons, Skamol S-1100E can be used in furnaces with reducing atmospheres. No disintegration of carbon deposition is found after 200 hours' exposure to CO at 450°C (842°F).
Skamol V-1100 (475) is a Vermiculite high temperature, energy-saving and cost effective insulating board that has been designed for a maximum service temperature of 1100°C (2012°F).
Skamol V-1100 (475) is clean to handle and easy to install. The product composition allows for easy cutting and shaping using ordinary wood-working tools.
Skamol V-1100 (475) is suitable for hot-face or back up insulation of all refractory constructions. It will not decompose even when subjected to direct flame, but the maximum service temperature should be taken into consideration.