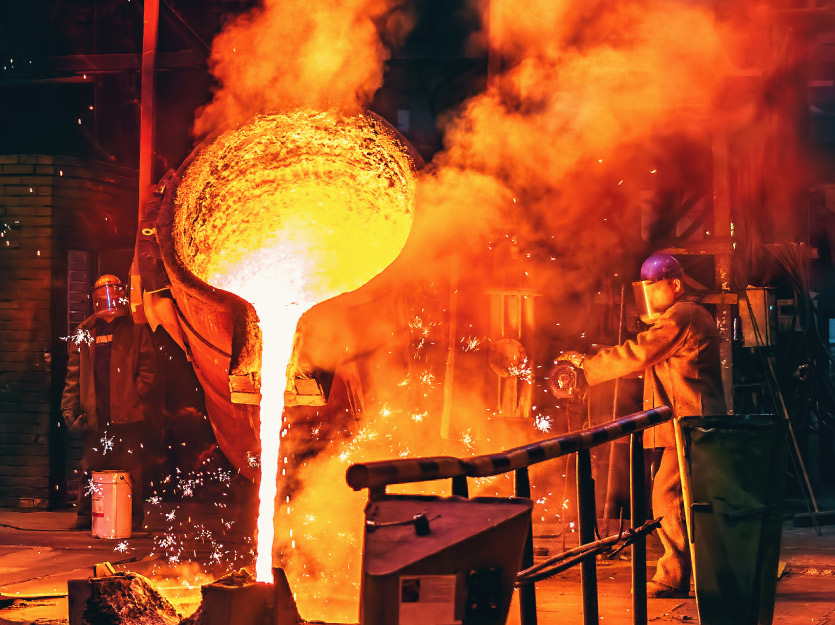 Castables For Foundry
Allied produces multiple grades of dense and lightweight castable refractory products for the foundry industry. This includes a wide variety of conventional and low-cement castables and no-cement and colloidal silica bonded products. Unique castable grades, such as high fiber-containing materials (ARMORMAX® and METAL-ROK®), are available for niche applications.
Allied's research and technology center continues to provide innovation to their castable refractories for optimum performance in the foundry industry. Industry-standard metal containing castable, V-CAST® and TEK-CAST delivers unmatched performance.
| Product | Al2O3% | SiO2% | Density (g/cm3 / lb/ft3) | Temperature Limit |
| --- | --- | --- | --- | --- |
| NANO-TEK® 418A | 69.5 | 7.5 | 2.95 / 184 | 1705˚C (3100˚F) |
| NANO-TEK® 70 | 68.1 | 28.6 | 2.50 / 156 | 1705˚C (3100˚F) |
| QUICK-FIRE® ONE 86 | 87.6 | 3.6 | 2.55 / 159 | 1650˚C (3000˚F) |
| QUICK-FIRE® 65 | 64.7 | 27.4 | 2.48 / 155 | 1650˚C (3000˚F) |
| QUICK-FIRE® 88 | 88.2 | 3.9 | 2.84 / 177 | 1650˚C (3000˚F) |
| TEK-CAST 426A | 77.9 | 12.4 | 3.14 / 196 | 1705˚C (3100˚F) |
| TEK-CAST 707A | 80.4 | 9.5 | 3.17 / 198 | 1705˚C (3100˚F) |
| TEK-CAST 712A | 78.7 | 5.2 | 3.07 / 192 | 1650˚C (3000˚F) |
| Product | Al2O3% | SiO2% | Density (g/cm3 / lb/ft3) | Temperature Limit |
| --- | --- | --- | --- | --- |
| V-CAST® 426A | 80.4 | 10.4 | 3.14 / 196 | 1705˚C (3100˚F) |
| V-CAST® 707A | 80.9 | 9.8 | 3.17 / 198 | 1705˚C (3100˚F) |
| V-CAST® 712A | 80.7 | 4.2 | 3.21 / 203 | 1650˚C (3000˚F) |
| V-CAST® 720A | 74.4 | 5.6 | 3.04 / 190 | 1650˚C (3000˚F) |
| CW 921 CASTABLE | 80.9 | 6.4 | 3.17 / 198 | 1650˚C (3000˚F) |
| CW 712 CASTABLE | 80.6 | 3.6 | 3.21 / 203 | 1650˚C (3000˚F) |
| CW 920 CASTABLE | 74.8 | 5.1 | 5.1 3.04 / 190 | 1650˚C (3000˚F) |
| CW 965 CASTABLE | 69.0 | 28.0 | 2.65 / 165 | 1705˚C (3100˚F) |
| CASTMAX® MB HP | 70.0 | 24.0 | 2.61-2.68 / 163-167 | 1790°C (3250°F) |
| CASTMAX® MBS HP | 63.5 | 22.8 | 2.53 – 2.59 / 158 - 162 | 1790°C (3250°F) |
| Product | Al2O3% | SiO2% | Density (g/cm3 / lb/ft3) | Temperature Limit |
| --- | --- | --- | --- | --- |
| METAL KAST 90 | 93.9 | 4.3 | 3.01 / 190 | 1870˚C (3400˚F) |
| METAL KAST 85 | 82.6 | 12.4 | 2.85 / 178 | 1760˚C (3200˚F) |
| METAL KAST 70 | 70.3 | 23.9 | 2.68 / 167 | 1760˚C (3200˚F) |
| METAL KAST 60 | 57.9 | 36.1 | 2.48 / 155 | 1705˚C (3100˚F) |
| CW 7929 CASTABLE | 69.8 | 24.6 | 2.53 / 158 | 1705˚C (3100˚F) |
| TUFF-FLO 608 | 60.7 | 27.3 | 2.60 / 162 | 1650˚C (3000˚F) |
| QUICK CAST® 62 | 66.1 | 27.2 | 2.64 / 165 | 1705˚C (3100˚F) |
| DURACON® 28 | 45.3 | 48.7 | 2.31 / 144 | 1540˚C (2800˚F) |
| DURACON® 30 | 47.2 | 46.3 | 2.33 / 146 | 1650˚C (3000˚F) |
| DURACON® 32 | 63.1 | 31.6 | 2.54 / 158 | 1760˚C (3200˚F) |
| CASTMAX® MB HP | 70.6 | 23.9 | 2.61 – 2.68 / 163 – 167 | 1790˚C (3250˚F) |
| CASTMAX® MBS HP | 63.5 | 22.8 | 2.53 – 2.59 / 158 - 162 | 1790˚C (3250˚F) |
| Product | Al2O3% | SiO2% | Density (g/cm3 / lb/ft3) | Temperature Limit |
| --- | --- | --- | --- | --- |
| KAST TECH™ 34 | 95.8 | 0.2 | 2.74 / 171 | 1815˚C (3300˚F) |
| KAST TECH™ 34 X | 94.9 | - | 3.12 / 195 | 1760˚C (3200˚F) |
| KAST TECH™ 33 | 95.6 | 0.1 | 2.72 / 170 | 1815˚C (3300˚F) |
| KAST TECH™ 30 | 56.0 | 36.5 | 2.44 / 146 | 1700˚C (3100˚F) |
| KAST TECH™ LADLE KAST | 53.3 | 39.9 | 2.24 / 140 | 1650˚C (3000˚F) |
| KAST TECH™ F80 | 50.9 | 41.1 | 2.24 / 140 | 1650˚C (3000˚F) |
| KAST TECH™ 31 | 57.8 | 35.3 | 2.23 / 139 | 1705˚C (3100˚F) |
Product
Al2O3%
SiO2%
Density (g/cm3 / lb/ft3)
Temperature Limit
V-CAST® 707A
80.9
9.8
3.17 / 198
1705˚C (3100˚F)
V-CAST® 712A
80.7
4.2
3.21 / 203
1650˚C (3000˚F)
V-CAST® 720A
74.4
5.6
3.04 / 190
1650˚C (3000˚F)
TUFF-FLO 608
60.7
27.3
2.60 / 162
1650˚C (3000˚F)
TUFF-FLO 62 M
62.4
32.9
2.48 / 155
1760˚C (3200˚F)
TUFF-FLO 50
50.2
44.4
2.32 / 145
1650˚C (3000˚F)
TUFF-FLO FSM
34.8
61.3
2.20 / 137
1370˚C (2500˚F)
PUMPLITE 80 LI
42.2
46.7
1.28 / 80 (Pump)
1.49 / 93 (Shotcrete)
1425˚C (2600˚F)
PUMPLITE 60 LI
39.7
47.6
1.02 / 64 (Pump)
1.19 / 74 (Shotcrete)
1370˚C (2500˚F)
| Product | Al2O3% | SiO2% | Density (g/cm3 / lb/ft3) | Temperature Limit |
| --- | --- | --- | --- | --- |
| V-CAST® 426A | 80.4 | 10.4 | 3.14 / 196 | 1705˚C (3100˚F) |
| V-CAST® 418A | 70.9 | 7.5 | 2.95 / 184 | 1705˚C (3100˚F) |
| V-CAST® 397Cr | 83.0 | 5.7 | 3.20 / 200 | 1760˚C (3200˚F) |
| NANO-TEK® 418A | 69.5 | 7.5 | 2.95 / 184 | 1705˚C (3100˚F) |
| STACKCRETE® 60M | 60.5 | 34.3 | 2.52 / 157 | 1705˚C (3100˚F) |
| STACKCRETE® 62M | 61.7 | 32.8 | 2.45 / 153 | 1705˚C (3100˚F) |
| STACKCRETE® 608 | 59.3 | 28.3 | 2.60 / 162 | 1650˚C (3000˚F) |
| Product | Al2O3% | SiO2% | Density (g/cm3 / lb/ft3) | Temperature Limit |
| --- | --- | --- | --- | --- |
| INSULMIX® 2025 | 15.4 | 38.3 | 0.32-0.48 / 20-30 | 1090˚C (2000˚F) |
| INSULMIX® 2460 LI | 43.8 | 36.0 | 1.0 / 62 | 1315˚C (2400˚F) |
| INSULMIX® 25 HS | 29.0 | 50.6 | 1.47 / 92 | 1371˚C (2500˚F) |
| INSULMIX® 2690 LI | 42.5 | 46.3 | 1.44 / 90 | 1425˚C (2600˚F) |
| Product | Al2O3% | SiO2% | Density (g/cm3 / lb/ft3) | Temperature Limit |
| --- | --- | --- | --- | --- |
| KAST TECH™ 26 | 42.6 | 41.3 | 1.91 / 119 | 1430˚C (2600˚F) |
| KAST TECH™ F80 | 50.9 | 41.1 | 2.24 / 140 | 1650˚C (3000˚F) |
| QUICK-FIRE® PATCH B | 78.5 | 10.0 | 2.53 / 158 | 1650˚C (3000˚F) |
| QUICK-FIRE® PATCH M | 62.7 | 26.2 | 2.33 / 145 | 1650˚C (3000˚F) |
| QUICK-FIRE® ONE PATCH B | 79.9 | 10.3 | 2.46 / 153 | 1650˚C (3000˚F) |
| PLASTER 55AC | 51.6 | 37.3 | 2.21 / 138 | 1650˚C (3000˚F) |
| Product | Al2O3% | SiO2% | Density (g/cm3 / lb/ft3) | Temperature Limit |
| --- | --- | --- | --- | --- |
| T-COAT® 689M | 3.5 | 8.5 | 2.05 / 128 | 1705˚C (3100˚F) |
| T-COAT® 692M | - | - | 2.0 / 125 | 1650˚C (3000˚F) |
| CW KOTE 85 | 2.9 | 9.5 | 1.70 / 106 | - |
| PLASTER 55 AC | 51.6 | 37.3 | 2.21 / 138 | 1650˚C (3000˚F) |
| Product | Al2O3% | SiO2% | Density (g/cm3 / lb/ft3) | Temperature Limit |
| --- | --- | --- | --- | --- |
| WASH 668A | 79.6 | 9.9 | 1.92 / 120 | 1705˚C (3100˚F) |
| WASH 148A | 91.7 | 5.8 | - | 1705˚C (3100˚F) |
| CW 160G WASH | 19.8 | 71.5 | 1.2 / 114 | 1650˚C (3000˚F) |
| ARMOR KOTE | 40.1 | 43.4 | 1.52 / 95 | 1650˚C (3000˚F) |
| LADLE WELL SPRAY | 11.8 | 80.6 | 1.75 / 109 | 1540˚C (2800˚F) |