TUFFLOOR® is a long-lasting refractory solution for industrial flooring.
For over 20 years, the TUFFLOOR® product line has become a trusted resource for flooring in applications where there is exposure to molten metal splash, dross and slag. The key to its success is versatility. TUFFLOOR® products have excellent freeze thaw properties and can withstand thermal shock and mechanical abrasion. If a flooring solution is what you need, choose TUFFLOOR®. This trusted product will maintain its integrity longer than other industrial flooring materials.
Reduce Downtime
Looking to reduce downtime?  TUFFLOOR® can be a great alternative to conventional concrete. TUFFLOOR® can be sold as a precast shape or ready for use in as little as 24 hours after installation.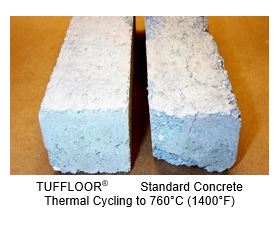 Promote safety
TUFFLOOR® is available in several colors, making it a great choice for use in safety zones to promote safer working surfaces and environments.


Case Study: Excellent Freeze-Thaw Properties
To prove how well TUFFLOOR® withstands extreme or varying temperatures, we installed it at our Headquarters entrance in Columbus, Ohio, USA. The pictures below tell the story. The photo on the left was taken in 2012 after installation and the photo on the right was taken in 2020. The weather in Ohio can differ dramatically from day to day; but as you can see from our photos, TUFFLOOR® looks just as good today as it did back in 2012 without need for repair.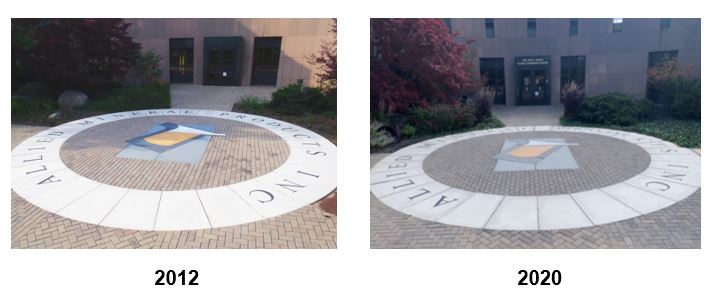 TUFFLOOR® benefits:
Excellent freeze-thaw properties
Exceeds the cold crushing strength of conventional concrete
Reduced maintenance time and expense
Minimized wear on mobile equipment
Custom colors available
Our technical experts are ready to design the ideal flooring system for your application. Get started today by contacting us at info@alliedmin.com.
View case studies and more at https://alliedmineral.com/app/tuffloor.html